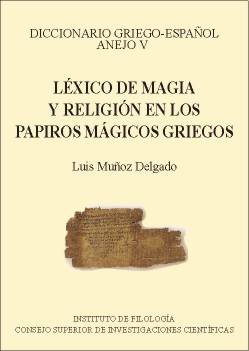 Léxico de magia y religión en los papiros mágicos griegos
Redactado por L. Muñoz Delgado
con la colaboración de J. Rodríguez Somolinos
Diccionario Griego-Español, Anejo V, Madrid, CSIC, 2001
20 x 27 cms., XX + 183 pp.
21,56 euros
ISBN 84-00-07949-3 - Rfa. 4647
Overview:
Greek Magical Papyri, datable between II BC and V AD, offer a wide and impressive panorama about magical and religious practices in Graeco-Roman Egypt. In this lexicon we collect and study more than 2500 words related to magic and religion contained in these documents, as they were presented in the editions of K. Preisendanz (Papyri Graecae Magicae) and R. Daniel - F. Maltomini (Supplementum Magicum). We also take into account some papyri appeared after this last edition.
Samples (PDF files) :
Lexicon: γῆρας - γραφεῖον
Appendix 1: Index of translations
Appendix 2: Reverse Index of Lemmata
Appendix 3: Complementary Indexes
Reviews:
Calvo, J.L., MHNH 2, 2002, p.334-336; Maltomini, F., Analecta Papyrologica 13, 2001, p. 251-254.